Find us on:
Call us today:
810-234-1710
We only use 100% Organic ingredients, no preservatives, artificial flavorings or GMOs! Candice Foods Energy Bars are great for anyone whether you have a food intolerance or not. We also ake our own sunflower seed butter to ensure absolute purity and safety.

We have a dedicated facility that is certified Kosher, Organic, GMO Free, Peanut/Tree Nut Free! We are free of: Gluten, Casein, Wheat, Dairy, Corn, Soy, Egg, All Nuts, Peanuts, GMO's and artificial flavorings or colorings.

We know how important it is to find "safe" foods for you and your family! We have three children who are anaphylactic to all peanuts and various tree nuts. As a mom, I know how important the safety of food is for those with allergies. So, relax, and know that you are in safe hands with Candice Foods!

Remember, for us it is personal......
Candice Bradstreet
News and Events

Keep Up on What's Going On Candice Foods
---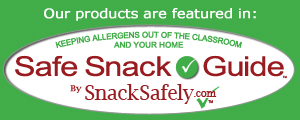 Candice Foods is certified gluten-free, GMO-free, organic and Kosher.
Click here for more info and to view our certifications.
---
Welcome to Candice Foods

TRUST, TASTE & TEXTURE
Candice Foods Energy Bars are free of the top ten allergens-gluten, casein,tree nuts, peanuts, wheat, corn, dairy, soy, shellfish, eggs and sesame.

Why do we care? Because as a mom of three children who are deathly allergic to all nuts and tree nuts I take food allergies very seriously and it has become a passion of mine.

We have been producing gluten, casein and allergen free products for more than a decade. Safety is a top priority and our facility is a dedicated allergen free zone.

With all natural ingredients, great taste, and seven different flavors, Candice Foods Energy Bars provide a punch of protein from sunflower seed butter.

...Think Safe, Nutritious and Yummy!
Read More »
For us it's personal.
We began our journey with a nephew who is autistic and our children who suffer with food allergies including a life threatening nut allergy. Personal... you bet.
Read More »
| | | |
| --- | --- | --- |
| Visit Candice Foods on Facebook and Twitter. | | |